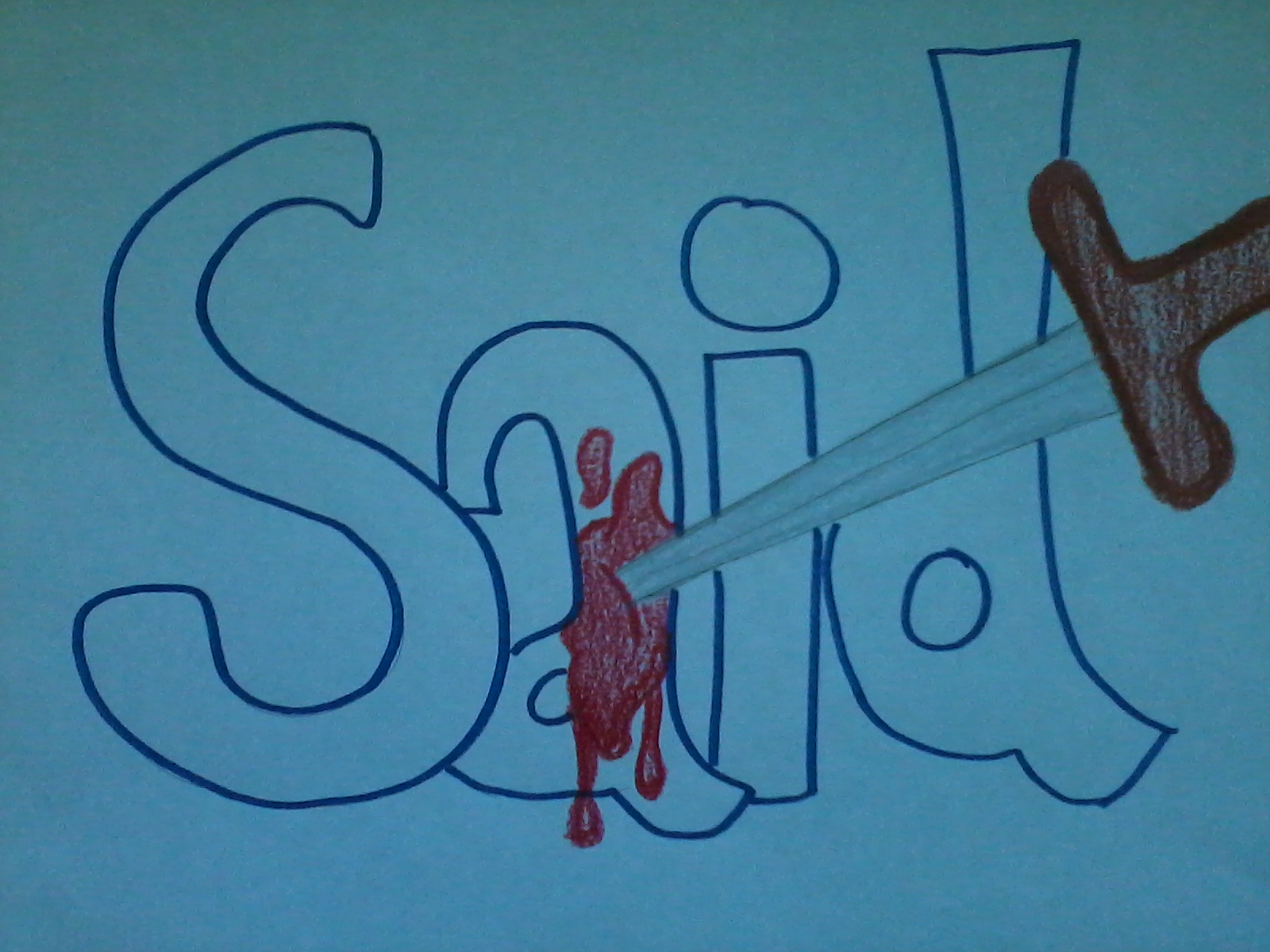 Yikes. It's been  a while since my last post. And now that it's summer, I don't have much of an excuse. So from now on, I will try to update this blog at least every other day, if not every day.
Anyway, I figured I should do a post on this topic because I know that a lot of people think they should avoid the word "said." Well, they shouldn't. And neither should you.
I'm sure you've been told not to use "said" at least once in your life, somewhere along the way. You were probably told that because you weren't using enough strong words, like "scream" or "cry" or "whisper." In fourth grade, I was told NEVER to use "said." And it was probably the biggest lie I have ever been told.
The reason you use "said" is because it's natural. It doesn't jump out at the reader and make him/her go "whoa." Gail Carson Levine had a really good way of saying it in her book, Writing Magic. The way she put it is that "said" is invisible. It disappears. In other words, it doesn't interfere with the actual story. Same with words like "ask."
Example: "Where is the peanut butter?" he asked.
Versus: "Where is the peanut butter?" he questioned.
Eek. "Questioned" sounds so awkward. If you can't really tell, it's probably because it's a single sentence. It's not in context. But imagine if you were reading a paragraph, and all of a sudden a word like "questioned" popped out at you. Part of writing- actually a big part of writing- is about finding your voice and letting the words flow. To do this, you need to write naturally. And that means avoiding words that make your writing sound awkward.
Obviously it's different if you're writing a formal essay. The rules of writing are completely different. But this blog is dedicated to writing fiction, so that's what I'm talking about right now.
Most of the time, when you're writing dialogue, it might even be better to let the writing speak for itself. You don't even need to use words like "said."
Here's an example:
"Hey, what's up?" She had that assertive look on her face, like she was trying hard to be confident.
He looked up at her words, stopped playing around with his phone. "Hi." He tried not to sound too surprised, but this girl never spoke to anyone; she was so shy. Why did she speak to him?
In this exchange of dialogue, the characters' thoughts and actions drive the  story more than the actual words they say. And that's fine. Notice how I didn't use anything like, "she said" or "she mumbled" after the speaker's words. I just jumped right in with the actions or thoughts or whatever.
Obviously, you can't do that all the time. And you can't use "said" all the time. But don't ever think that you can never use it. Basically, what I'm trying to say is that you need to use words where they go. When a character is actually shouting, say "he shouted." But don't say that just because you're avoiding the word "said." Because when you do that, your writing sounds awkward. Write what feels natural. Write what's right.