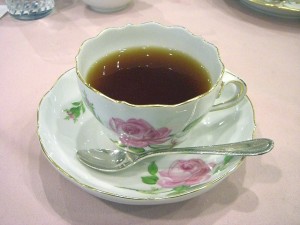 It's about time I talked about my love of tea. Sometimes, I feel as though tea is the only constant in life. Seriously.
My friends think I'm crazy, but I've had a habit of drinking tea at exactly 3:27 PM for a long time. It definitely started in elementary school, but I can't remember which grade. I just remember coming home from school every single day and turning on the TV to watch "Arthur" and then making my cup of tea in the microwave.
Oh, and I can't forget the cookies. Tea and cookies. That was my thing (and still is).
Now, I don't watch "Arthur" anymore, but I do read while I drink tea (usually Calvin and Hobbes). That time – from 3:27 to around 3:45 or whenever I finish – that's my time to relax. To take a break. It doesn't matter how much homework I have to get done; it doesn't matter how stressed out I am from school. I have to spare those precious minutes to drink my tea. And the rule is I cannot do anything academic-related while drinking tea! It defeats the purpose entirely. It kills the sacred bond between myself and the tea.
(Okay, I'll admit that last sentence is maybe taking it too far… with the sacred bond and whatnot. :P)
But honestly. Life is constantly changing, and it's nice to know that tea is still there. There's that one quote:
"The only thing constant in life is change." ~François de La Rochefoucauld
And tea.
Sometimes it's the little things, you know? The fact that no matter what happens at school, no matter what happens in life… I can always drink a cup of tea. And there's just something comforting about that feeling you get when you drink something hot – it just warms your body, all the way down to your toes, and it gives you a nice warm feeling inside… almost like hope.
It's like drinking hot chocolate on a snowy day. Or huddling by the fireplace in a cozy blanket.
Maybe tea isn't really your thing. But there has to be something. Something small and comforting. A candy that you really like? Chocolate? Maybe it's not something edible. Maybe it's just the smell of a rose. Or reading before bed.
I'm not sure what you find comforting. It's just… sometimes it's the little things that really make life worth living, you know?
URL for the picture:
http://upload.wikimedia.org/wikipedia/commons/f/fc/Meissen-teacup_pinkrose01.jpg