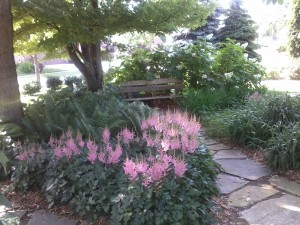 School has started, so I won't be updating as frequently as I would like to. But I'm still going to try!
Anyway, I love the garden. My mom is an avid gardener, so our yard is lush and green and blooming during the spring and summer. It's beautiful.
One of the greatest things about it is how calm and unworried you feel when you're out there. Seriously, it's impossible to be stressed out about anything when you sit on the bench and watch the birds and squirrels and butterflies. One of my favorite things to do is grab a book and sit out there and read. (I can't really do that right after it rains or in the evening though, because that's when I get eaten alive by mosquitoes.)
It's also wonderful to sit outside with my laptop and work on my manuscript. (The best part is when the internet is too slow or doesn't work, because then I have nothing to distract me.) I even do my homework outside sometimes.
And sometimes… sometimes I do nothing. Sometimes I just sit there, on the bench, and look around me, and breathe in the scents of the garden, and just… think. About life. About how wonderful it is to be alive and well. Sometimes I watch the birds in the birdbath or the squirrels scampering around or the occasional rabbit that eats my mom's hostas. (We also get a lot of deer that eat the tulips, but you never see them during the day. They come by night. Those sneaky deer!)
Anyway, when I sit in the garden like that, it reminds me of this quote from The World of Pooh by A.A. Milne ( an excellent book, by the way- if you haven't read it already, read it, and if you have read it, read it again):
Christopher Robin has just asked Pooh what he likes best in the world. Pooh says, "What I like best in the whole world is Me and Piglet going to see You, and You saying 'What about a little something?' and Me saying, 'Well, I shouldn't mind a little something, should you, Piglet,' and it being a hummy sort of day outside, and birds singing."
And then, Christopher Robin says, "I like that too, but what I like doing best is Nothing."
Pooh: "How do you do Nothing?"
Christopher Robin: "Well, it's when people call out at you just as you're going off to do it, What are you going to do, Christopher Robin, and you say, Oh, nothing, and then you go and do it."
It's just… so simple and so true. I mean, the best part of Pooh is how simple he is- not a care in the world! All he worries about is his honey. Silly old bear. 🙂
And when I sit out in the garden, it's sort of like taking a break from life- I can get away from all the hustle and bustle of life, and all the stress from school… and I can concentrate on simple things. Sometimes life is way too complicated… and you just need to stop for a moment and smell the flowers (yeah, I know that was really cliche).
But it's true.