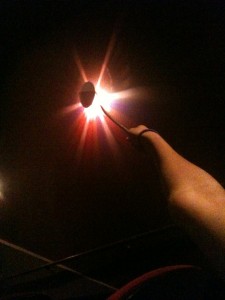 I meant to post this a while ago. 🙁 It's been sitting in my drafts pile, waiting to be posted.
Anyway, I went to see the midnight premiere of Harry Potter and the Deathly Hallows Part 2, and I have to say… I was pretty impressed. Yeah, there were a couple things that could have been better (Voldemort's death should have been more dramatic), but overall it was a great movie.
But I don't want to talk about the movie… I want to talk about J.K. Rowling, who possesses the true magic- of making her characters and their world come to life. Obviously all the hype about Harry Potter kept me super excited, all the way until the last movie- after which I felt like crying. I just can't believe it's over now. I was already heartbroken after the last book- no more rushing to Border's and standing in line and waiting until midnight- but at least the movies still kept it alive. And now… even the movies are done.
But you know something? Harry Potter isn't dead at all. He is very much alive. J.K. Rowling put so much life into her characters- I honestly feel as if I know them. I am going read the series again (for the twelfth time), and you know what? It will never get old. Even if I read it over a hundred times. Why? Because J.K. Rowling is a genius.
She wrote those darn books in such a way that the characters are real, that Hogwarts is real, that magic and spells and wands and Quidditch are all real. And that's what an author is supposed to do.
Read this sentence: No author is perfect. Read it again: No author is perfect. And again: No author is perfect. But guess what: J.K. Rowling is pretty darn close!
Obviously you are going to aim for perfection. But DON'T (and I repeat DON'T) write something just because you think other people want to read it. Do you think J.K. Rowling loves every single word she writes? Of course not. But does she write because she loves to? I certainly hope so.
As cliche as this may sound,
Write from your heart.
That's what will get you far. But don't think that because you're writing from your heart it's going to be easy! Don't think that because you're writing from your heart you won't get frustrated! Because you will. Quite often. But that… that belongs in in another blog post… for another day.
Today, just keep this in mind:
Capture an idea you love, and follow it through to the end.
Trust me. You'll end up with something brilliant. Don't give up.