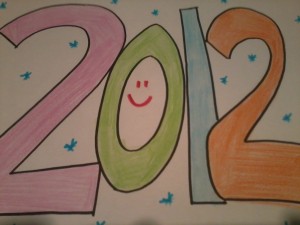 Wow. I can't believe last year went by so quickly. And yet… I feel as though so much has happened between then and now. To me, especially. When I look at the person I was at the beginning of last year, and at the person I am now, it's rather startling. Even if I don't appear very different in the way I act, or in the things I say, or in the way I look… I am definitely quite different in the way I think.
It's funny how a person can change so much in just one year. I feel… more grown up, somehow. I seem to understand life, in general, much better, and I'm able to recognize things and form opinions for myself. The things that mattered so much to me last year don't seem to matter anymore. Don't get me wrong- 2011 was a great year. I learned a lot, and that's why I'm ready to make a fresh start in 2012 (since the world has not ended).
My New Year's Resolutions:
1. Finish my manuscript- entirely! This includes revising, editing, and having it proofread by others. Before the year's over, I want to hold a polished manuscript in my hands  and start submitting query letters to agencies. No more procrastinating!
2. Stop worrying about little things. As calm and unruffled as I try to appear, on the inside I'm often worrying about stupid things that don't matter anyway. No more of that!
3. No regrets. Too often have I let opportunities slip away from me. Not anymore. The worst feeling in the world is wishing you would have done something when you had the chance. It's one thing to get up and actively seek opportunity and not find it… at least you tried. But it's another thing to have it offered to you on silver platter and ignore it.
4. Stop getting lost in the past. This one is hard for me… I keep thinking of good times I had in the past and let the memories overwhelm me…. when what I should be doing is turning my head around and facing what's to come! It's like Dr. Seuss said: "Don't cry because it's over. Smile because it happened."
5. Look for the good in people. I am not a mean person… I don't think I ever have been. But I do get annoyed with people, and there are people I don't like and could complain about. But instead of seeing faults like this… I'll try to focus on the good things. Even in the people I dislike most.
Well, I think five resolutions is good enough for now… but I'm sure I could easily add to the list! I think new year's resolutions are a great way to reflect on last year and get a fresh start on this one. The best part is reading your resolutions at the end of the year and seeing if you fulfilled them. Even if you didn't, they're still fun to read, and it just means that you have more for next year. 😀