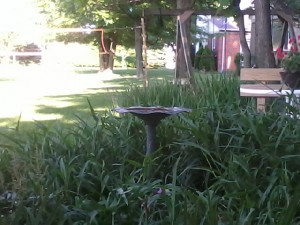 I realize that it's been almost two months since my last post, and I apologize for that. Fortunately, I no longer have marching band or synchronized swimming eating up my time, so I can spend some time updating my blog and such.
Oh, and working on that, uh, manuscript. 😛
At any rate, let's pretend I don't have a chemistry lab sitting in my backpack, waiting to be done. Let's pretend that all I have to think about is the fact that it's a sunny day outside (which does tend to raise one's spirits), the flowers have been poking their little heads up out of the ground for some time now, and the air smells crisp and fresh, like we're done with this half-winter and ready to move into a full spring.
I think spring must be my favorite season of the four. (Of course, during the summer, summer is my favorite, during autumn, autumn is my favorite, etc.)
But there's something about spring that makes a person just feel good. Maybe it's because winter is beginning to move out. Maybe it's because everything's turning green again. Maybe it's those silly birds that have begun to call to each other and just won't shut up. I don't know. Something of the sort.
Sometimes, I realize that there's just a lot that I don't know and never will. The more I learn, the more I realize how little I know. And the more I realize how little I know, the more I'm able to appreciate life because I can relax. There's no struggle to learn everything there is to know before my time runs out.
There's stuff I just won't know. That's it.
I'm not the first person to realize this, and I won't be the last. But, if anything, I'm glad I've realized it now, while I'm still young. Now, instead of trying to learn everything, I can focus on my true passion.
But sometimes even that gets a little confusing or stressful. And whenever that happens, it's nice to remember that the sun still shines and the grass is still green, and those those silly little birds still call to each other. And they still won't shut up.