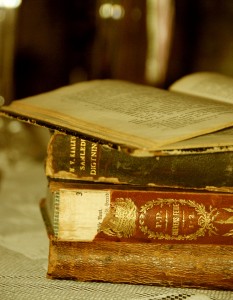 "Simplicity, simplicity, simplicity!" ~Henry David Thoreau
I went to the theater yesterday to watch Beauty and the Beast in 3D with one of my best friends. The movie was as good as ever, of course, but I'm not too sure about the 3D… personally, I think it kind of ruined it. Halted my imagination somehow. But that's all right- it was nice to have a chance to watch the movie on the big screen.
My favorite scene in Beauty and the Beast is when the beast gives Belle his library. The scene is so breathtaking and beautiful… my imagination runs away with it. If I had a library like that, I don't think I'd ever come out of it! I fell in love with the library from the movie and now I long for one of my own.
I love old-fashioned libraries and books. Ancient, dusty volumes… and the smell of an old book is the best part. Sometimes it makes me really sad to think how much technology has advanced. Online books aren't nearly as much fun as turning the pages of an actual novel. I'd hate to think that a day will come when we no longer print books and everything is on a computer screen. Even writing things down as opposed to typing them… there's a thrill that only a pen and paper can bring. And writing with a quill on parchment seems much more… romantic, somehow, than typing on a boring old computer.
It's funny; I almost feel like I want to move backwards in time instead of advancing further. Of course… any romantic or sentimental attitude must give way to what they call "efficiency," and so it must go on… with humans never being satisfied and constantly trying to improve this life.
Ah well. I think I've been reading too much Emerson and Thoreau… maybe I'm becoming a bit of a transcendentalist myself! But sometimes life does seem to be advancing much too quickly for my liking. I'm perfectly fine with just keeping it simple. 🙂
Oh, and watch this: